Joy of joys, based on what we saw this season, we have hopes for some WTF moments this May in Stockholm. That said, we all know that the real WTF action is in the national selections. Here were some of the standouts this year.
Norway: The Hungry Hearts – "Laika"
A song that captures the legacy of Verka Serduchka but is for the ladies. The Golden Girls joined Devo for a nostalgic look at the Soviet Union's salad days, when disco music filled the streets and garbage bags were the height of fashion. Blanche gets the solo, naturally.
Belgium: Amaryllis – "Kick the Habit"
When Amaryllis sings of her need to kick the habit, she's referring to her powers of telekinesis. Amaryllis is like Carrie that way, if Carrie had seen A Christmas Story and The Kiss of the Spider Woman musical, and if she had gone on the Phantom Manor (or, if you're American, the Haunted Mansion) ride a few 100 times. Here's a fun game for you to try at home: imagine Elmer Fudd singing along. "I've got to kill the wabbit, kill the wabbit, kill the wabbit."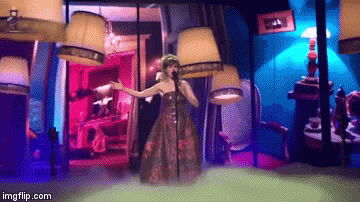 Iceland: Sigga Eyrun – "Kreisi"
Let's just say it wasn't the most sympathetic portrayal of mental illness we've ever seen.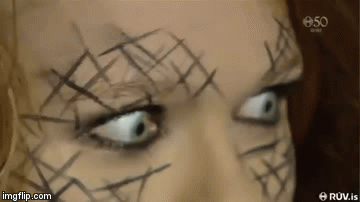 Estonia: Meisterjaan – "Parmupillihullus"
Things could have been so different for Kylo Ren if he had studied the ways of the samurai, learned to play the mouth harp, and if Joseph Gordon-Levitt had been cast instead of Adam Driver. (We really enjoyed this one, by the way. It works on many levels.)
Germany: Gregorian – "Masters of Chant"
We don't necessarily have a problem with the idea of Gregorian chant-inspired pop. We probably should, but we don't. But "Masters of Chant" was so on the nose that the whole package just felt dumb. Gregorian was, of course, dressed in rhinestoned black cloaks, and there was fire. And green lasers. As one does.
Romania.
No, we are not going to discuss Ovidiu Anton in this post. Everyone gets to enjoy his WTF glory in Stockholm! But did you know that winner of Selecția Națională receives the golden idol prop from Raiders of the Lost Ark?
Latvia: The Riga Beaver
Lest we forget, the Riga Beaver made a return appearance at Supernova. The self-styled Cultural Symbol of Europe raised his game this year, playing Pictionary, conducting classical music, leading fitness breaks, doing craft projects, and singing "Let It Go" with a 8-year old ballerina. At this point, he has more than earned the right to read out the results of the Latvian vote at Eurovision. Make it happen, Latvia.