It's tough to follow the rehearsals through short clips and reactions on Twitter and websites. There is very little consensus among the die-hard fans on the ground about what they are seeing. Except that Iceland isn't going to qualify. Which means it probably will.
Here are your Eurovision words of the day:
Compentencies
Hands
The Continental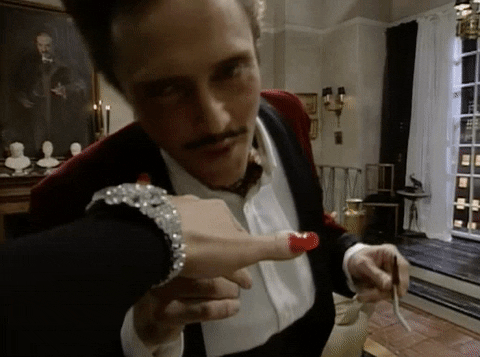 Azerbaijan kicks off the first Semi with "X My Heart." They are showing remarkable restraint in their staging, only bringing some icebergs to perform on. Perhaps they were tipped off to the batshit insane staging to come later. Aisel looks and sounds fabulous.
Next up is Iceland. By all accounts, Ari is a lovely lad, good-natured and sweet. And he is a good singer. But god, this song is as dull as dishwater.
Albania has gone for a rock concert staging. Eugent is a fantastic singer and "Mall" has a big, arena-sized sound. Whether it is engaging enough to capture votes remains to be seen, especially when this style of Albanian rock has struggled in the past. We really hope they can pull it off.
Sennek sounds good, but something about her styling and Belgium's staging overall isn't clicking with us. Beyond an interesting outfit, they've been unable to provide a compelling stage picture. It's a real shame, because "A Matter of Time" has gone into heavy rotation in our household. We will be really sad, but not surprised, if this does not qualify for the Final.
Poor Mikolas Josef injured his back during his first rehearsal and spent a couple of days in the hospital. He had been planning a very athletic performance, with backflips and other feats. Now Czech Republic have had to rethink their choreography in order to give him time to recover. He has been philosophical about the situation, saying, "Music is not about flips, it's about many other things." In the second rehearsal, he stood and sang while the dancers moved around him. At this point it's unclear what kind of performance we'll see on Tuesday.
Ieva Zasimauskaitė from Lithuania is standing on a bridge in a fuzzy pink sweater singing a love song to her husband, who joins her on stage at the end. If it weren't so effective, it would be really cheesy. But Ieva's beginning to look like a qualifier.
Israel has made a couple of odd staging choices. Netta is on stage surrounded by waving lucky cat dolls and standing at a table that is not a looper, because the backing singers are doing live renditions of the vocalizations. The singers seem to be struggling to keep up with Netta, which is a bit of a concern. Maybe we're feeling a little snake bit when the odds leader shows up to Eurovision and the staging hasn't gelled. Is this still a potential winner? We're not sure, but we still think Israel is going to do just fine.
Belarus. Belarus Belarus Belarus. Belarus.
Alekseev has given us a little art film. A gory little art film. There are roses and blood and roses and archery and a dancer and more roses. If "Forever" is half as epic on television as the rehearsal footage and the Twitter commentary suggests, we will have one for the ages.
Estonia had some drama in the lead up to Eurovision because they needed to get a stronger projector for Elina Nechayeva's projector dress. Because without that dress, the whole package falls apart, we guess? It's not like we haven't seen that effect before. Anyway, rather than rethink their staging, Estonia stuck with it and were able to raise enough money in sponsorships to pay for the production. Yay? That said, "La Forza" does stand out as different from the other songs, and Elina and her vocals are pretty. Maybe for the first time in a few years, Estonia is sitting pretty too.
Equinox sounds good, but Bulgaria's staging is not doing it for us. It doesn't seem cohesive. This is a concern, since our criticism of the song is that it felt more like a performance piece than a solid song. If the performance isn't there, than what is it?
Macedonia's staging looks like a hot mess, so at least it suits the song. There is a costume change in which Eye Cue's Marija Ivanovska loses a backwards pink jacket to reveal a chain mail bustier. There is awkward dancing. It all makes us sad.
We hadn't rated Croatia highly in our song review, but it sounds like Franka has shown up to play. She comes out looking classy and just belts her song. It should help her stand out in a year full of high concept stagings.
It looks like Austria is relying on some camera tricks to accentuate Cesár Sampson's performance. He's got a big platform to fly around on, but he still finds time to wander the stage. We're worried he is not going to give a grounded performance in his efforts to fill the room.
Greece's Gianna Terzi feels lost in the diva parade tonight. Between Azerbaijan, Israel, Estonia and Croatia before and Finland and Cyprus to follow, Gianna is just there with her blue hand. We hear Greece has some camera tricks up their sleeve that they have yet to reveal. Will that miraculously make their staging engaging?
Saara Aalto is finally at Eurovision and Finland has given her everything plus a couple of kitchen sinks to play with. However, what really matters to us is how well she sings "Monster" amidst all the chaos. And we think she sounds shrill.
The last four songs in Semifinal One rehearse tomorrow. Despite all our caveats and reservations, this show is shaping up to be a doozy. And this isn't even the crazy Semifinal. It's going to be a fun year.