Today's Semifinal Two rehearsals started on a mountain and ended inside a piano-coffin. So who thought the Song Contest was getting boring?
Here are your Eurovision words of the day:
Props
Pyro
Tone-deaf
Ach, Dracule!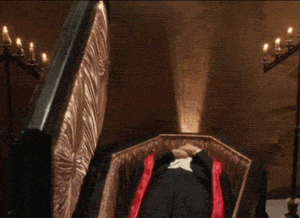 Russia used the "I Won't Break" video as inspiration for their staging. Julia Samoylova sings atop a projection mountain (take that, Estonia!) while two dancers perform in front of her. It's a reasonable way to work with Julia's physical limitations while still making sure she commands the stage.
We thought "My Lucky Day" was a weird song to be sung by a trio. Moldova seems to have noticed that too and staged it like a door-slamming farce. It is glorious.
Netherlands is up next. Waylon has included krump dancers in the staging of his rebel country rock song. From the clips we have seen, we're not sure that this is coming off the way he intended.
Australia is still very early in its Eurovision career. While they have come out of the gate strong musically, they still have a lot to learn about staging. Jessica Mauboy looks very lonely on stage singing and dancing by herself. "We Got Love" is crying out for her backing singers to join the party.
Georgia is lovely. Iriao just stand there and sing and let the lights and the dry ice and the fire curtain flow around them. It's not particularly exciting, mind you, but it is lovely.
If Australia isn't bringing the party, Poland certainly is. Gromee may dance like your dad after a couple of alcopops, but "Light Me Up" is goofy fun.
Malta has an LED prop on stage that shows clips from the official video for "Taboo," amongst other images. There is also an interpretive dancer. Christabelle risks getting lost in all of the trappings, which is a shame because she is more than capable of telling her own story.
We don't know how expensive pyro rigs are, but Hungary sure are making full use of their investment. Vocalist Örs Siklósi brings an intensity to his performance that matches the explosions going off around him.
Latvia stick with the Supernova staging for "Funny Girl." It's a proven winner on a national final level, but we can't help but feel that "Funny Girl" needed a little bit extra to stand out between "Viszlát Nyár" and "Dance You Off."
It seems like the only change Sweden have made to "Dance You Off" is giving Benjamin Ingrosso a more comfortable jacket. It's like the Swedes read our blog!
Montenegro are doing a standard issue Balkan ballad staging for "Inje." You know what you're getting with it.
As a side note: every year there are a couple of artists who seem so delightful that we become very jealous of anyone who gets to meet them. Vanja Radovanović is one of those artists.
Finally I found a drink that matches my stage suit. 👌🏻 pic.twitter.com/bzGN78VCB6

— vANJA rADOVANOV!Ć (@chegovic) May 5, 2018
At first glance, Slovenia are serving up a straight-forward performance of "Hvala, ne!" Then, for reasons we don't begin to understand, they stage a fake technical error as a way to… uh, get the crowd involved? They should have hired Jimmy Jump and the naked Ukrainian guy while they were at it.
The day finishes off with Ukraine, who have taken Melovin's national final staging and just added more. The riser-on-fire stunt is still there, except it's now the entire stairway to the piano that goes up in flames. Also, Melovin starts off by rising out of his piano like a vampire. (Was DJ Bobo just too far ahead of his time?) It's over the top, which of course means it's perfect for Ukraine.