Look, Eurovision is weird. A song sung by a guy performing with a dancer in a gorilla costume was the odds leader for most of the season. So an act really has to be special to get us to look at each other and mutter, "WTF?"​ Here is this year's crop:
Sweden: Our complicated relationship with Benjamin Ingrosso
Benjamin Ingrosso is a child star who, at age 19, is trying to make the jump to more grown-up fare. And in many ways, "Good Lovin" worked. It sounds like something Justin Timberlake would have churned out in his early solo career. And seeing as we enjoy the song stylings of Justin Timberlake, "Good Lovin" has been in high rotation as we manage our post-Eurovision depression.
And Benjamin Ingrosso is an engaging performer. He was good on camera in a Mark-Paul Gosselaar sort of way, and that tooth gap was endearing. We like him.
But so much of his Melodifestivalen performance was uncomfortable. There was that J. Crew shopping spree. Since when is a lavender jumper and charcoal gray slacks a good pop star look? Then there was that choreography. The pelvic thrust with one hand in his pants pocket when he dances? Cringe.
And let's not overlook the lyrics. Singing "He's touching your body like I used to do"? Eeeeeeeewwwwwwww. What 19 year old thinks like that?
And we know this is superficial, but we couldn't help but be distracted by just how hairy his arms are. Chris has got really hairy arms, and even he was uncomfortable by how hairy Benjamin Ingrosso's arms are. Bigfoot would look at his arms and say, "Boy, that kid is hirsute."
Still, good song. But, ugh, complicated.
Slovenia: Tim Kores – "Open Fire"
It's hard to explain what camp is, but we know it when we see it. "Open Fire" is the EMA equivalent of Battlefield Earth: lots of lame visuals cribbed from more successful sources, and also bad contact lenses. When Kores "throws" a "ball of fire" to "set the drumkit on fire," any ember of credibility is doused. We watch this one far more often than we really should. It is mesmerizing in its awfulness.
Belarus: Lermont x Julic – "Heartbeat"
Is Lermont x Julic a mathematical equation? We were told there would be no math. But no problem, we got this. Here is a direct proof:
Axiom 1: Lermont x Julic = uncontrollable chortling.
Axiom 2: Lermont x Julic + back-up performers >~ Lermont x Julic.
Theorem: Lermont x Julic = 0.
Sweden: De Vet Du – "Road Trip"
Epic and hilarious. De Vet Du are a comedy music group who have mastered the art of lacking self-awareness in a totally self-aware way. They also recognize that you consume the most fast food music when you're in your car.
Estonia: Close to Infinity feat Ian Karell – "Sounds Like Home"

Ever wondered why Beatles riffs haven't been sampled by more hip hop acts? "Sounds Like Home" explains why.
Belarus: Nikita Hodas – "Voices In My Head"
At first, Nikita comes off as Sam Smith covering "Time of Your Life" with a pitchy falsetto. He performs while holding a book to show that he feels the feels. Then he speak-sings his life story and it all gets unbearably twee. If Dear Evan Hansen ever makes it to Eastern Europe, we have found the perfect lead.
Finland: Knucklebone Oscar and the Shangri-la Rubies – "Caveman"

Imagine if Jack Black was cast as Hyde in That '70s Show. Imagine Jackie and Donna as stiff back-up singers. Imagine if there was a coherent song to accompany whatever this was supposed to be. When Oscar broke his guitar at the end, he was speaking for all of us.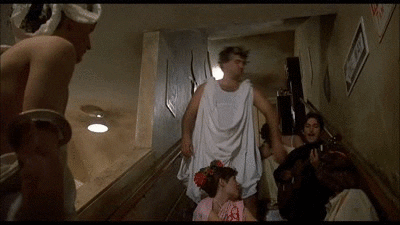 Sweden: All the F-bombs
There was a lot of cussing at Melodifestivalen this year. Excuse me, Melodi-f'n-festivalen, to quote host Clara Hall. Between the first cut of "I Can't Go On" to Lisa Ajax's utterly embarrassing "I Don't Give A," Sweden went out of its way this year to make us reconsider watching Melodifestivalen with our eight-year-old.
Slovenia: EMA's production value
This year's EMA felt like a remedial A/V club project. The crowd noise was frequently piped in. The director kept using a strange medium shot that placed each singer in the lower half of the screen. (Hey director man, ever heard of the rule of thirds?) Then there was the lengthy filler content where the contestants talk about how much they like each other. They try, oh how they try.
Lithuania. Gytis "Lolita Zero" Ivanauskas – "Get Frighten"
At first glance, Lolita Zero looks like a busted queen. But when you look past the inflatable devil horns, you realize that she's actually quite visionary. Who else has thought of combining Urban Cowboy with Gallagher's Sledge-o-matic? No one, that's who. What really caught our attention was the fact that Gytis rose to prominence with his lauded performance in Dostoyevsky's Crime and Punishment. Talk about putting the "rascal" in Raskolnikov!